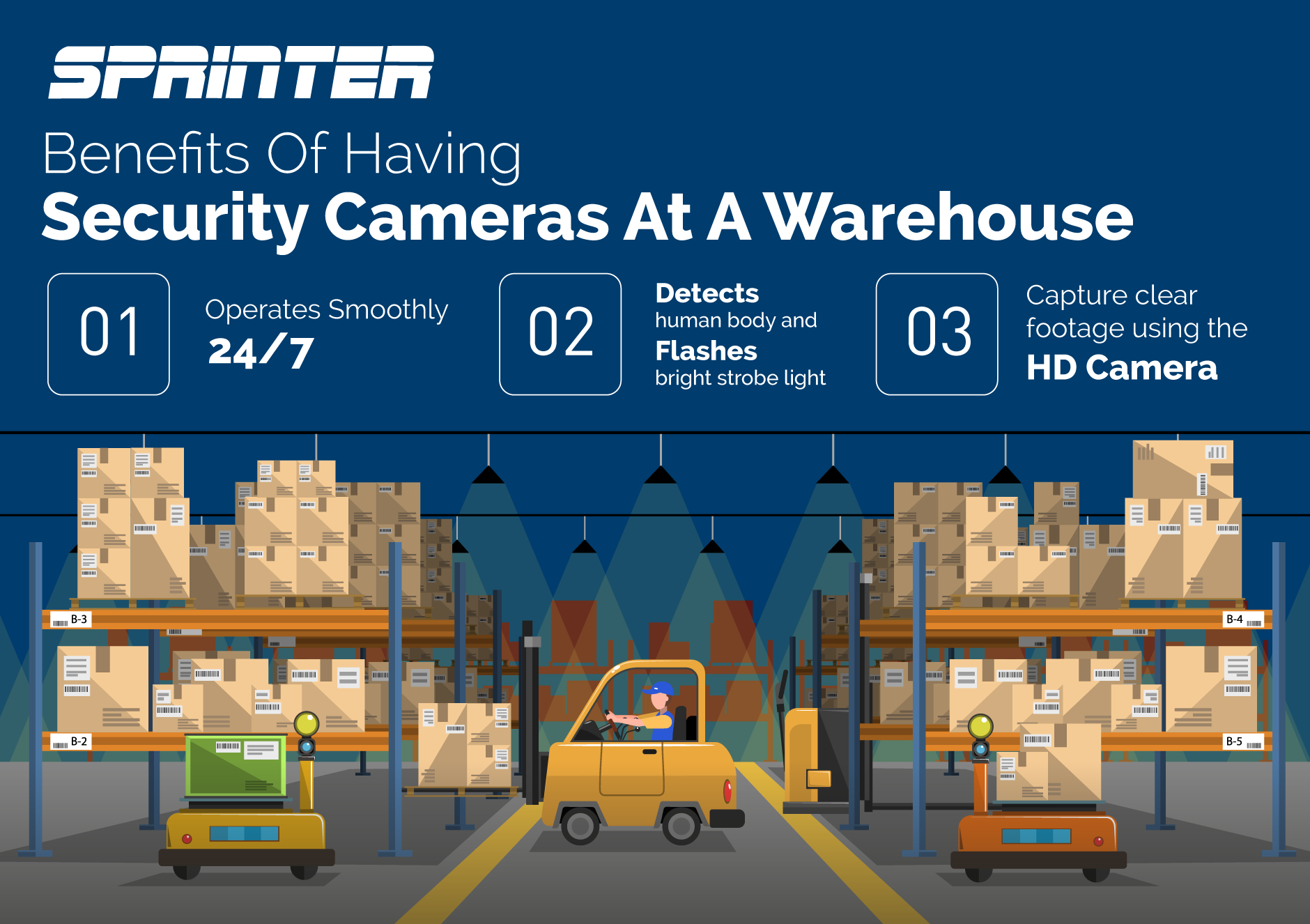 Any individual with an active business premise should be in a position to monitor his or her business any time of the day. However, due to unavoidable circumstances, most business owners are not able to keep an eye on their business 24/7. This is where CCTV comes into effect.
Sprinter CCTV is an advanced security system that allows people to monitor their properties with the utmost comfort. Sprinter Security cameras in Dubai, UAE can keep an eye on your business premise without necessarily being there to do so. CCTV security systems are a must-have if you operate a warehouse. The following are some of the benefits of CCTV cameras, and why you should consider installing them in your warehouse.
Improved Quality Control
Most warehouse owners usually find it hard to keep an eye on their employees and the business at the same time. This is not the case with CCTV cameras. By combining audio and video surveillance, you will be in a much better position to monitor your workers and any other activity taking place in your warehouse. This, of course, will reduce headaches associated with constant follow-up on your employees, increase productivity in your business, and reduce the loss of products in your warehouse.
Cost-Efficient
If you don't have a CCTV system installed in your warehouse, the most likely method of protecting your business is to hire security agents. Though these agents can provide the security needed for your business, the cost associated with paying them can be high and untenable to some employers. This is not the case with CCTV cameras. The notion behind this argument is based on the fact that a formidable security camera installation will only require about six cameras based on how large your warehouse is. Once you have installed these cameras and they are up and running, all that you need is to keep an eye on the computer connected to the cameras. No monthly charges will be required to operate the CCTV system unlike hiring security agents who will always ask for their monthly wages.
Remote Monitoring
With the advancement of technology, security camera installation with newly developed CCTV cameras come with a Network Video Recorder (NVR) and IP CCTV cameras. Both of these gadgets give you the freedom to monitor your warehouse over the internet. As long as you have an active internet connection, you will be in a position to get live feeds directly to your phone. If a forceful break happens, you will be able to monitor the situation and inform law enforcers before more damage can be done.
Loss of Property is Prevented
Warehouses are mainly about loading, unloading, storing, and shipping of products. It is therefore essential to keep an eye on each department within and outside your warehouse. The sad part is that no matter how vigilant you try to be; your employees will always find a way of acting mischievously. The good thing is that, with a fully-installed CCTV system, you will be able to monitor each department in your warehouse without even being within your warehouse.
Round the Clock Surveillance
Round-the-clock surveillance not only is essential to your business but also acts a safety cushion to your workers. In a warehouse, accidents are prone to occur especially when loading and unloading products. With security cameras in Dubai – UAE, you can be in a position to determine whether an accident was caused by negligence, faulty equipment, or failure to adhere to safety precautions. If an accident was caused by negligence, the guilty party should be held responsible. On the other hand, if the accident was caused by faulty equipment, then you can contact the required agency to make amendments. Therefore, CCTV cameras will prevent you from paying for accidents you were not responsible for in the first place.
If you live in Dubai – UAE, various security camera installation companies are readily available to offer you the required assistance in terms of securing your warehouse. Simply get in touch with them and get the peace of mind that you deserve as a business owner.
At NexGen Technologies LLC, we are security system experts. Call us at 00971-4-3868030 for a FREE on-site evaluation of your security camera needs.